Child abuse: How education can overcome Australia's hidden epidemic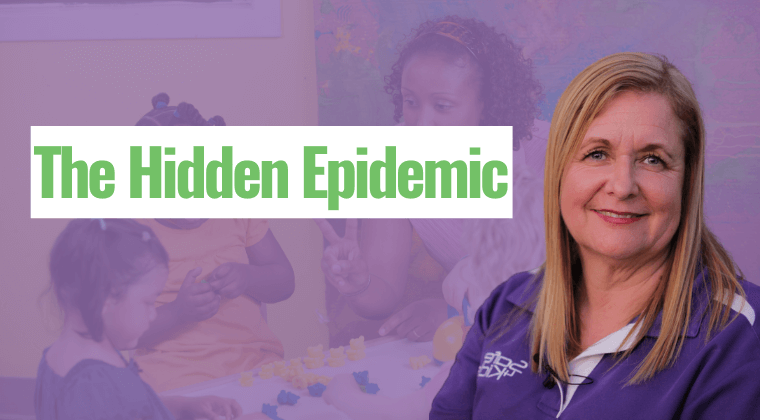 Child sexual abuse – it's a topic nobody wants to talk about, but ignoring it and hiding from the frightening reality of Australia's child abuse epidemic, is only putting more and more of our children at even greater risk than they already are.
In this article, child abuse prevention educator Holly-ann Martin shines a light on the darkest issue in our society and tells us what we can do about it.   
You'll probably find it difficult to overcome the shock that stems from reading the statistics below, and you won't be alone. 
The numbers paint one very devastating picture: Australia is facing a hidden child abuse epidemic… and it's on the rise.
The hidden epidemic: Child abuse by the numbers
According to the Australian Institute of Criminology: 
Up to

30 per cent

of children experience some form of childhood sexual abuse.

Between

5 and 10 per cent

of children experience severe abuse. 

Children with disabilities are up to

seven times more likely

to be sexually abused than their non-disabled peers. 
That's 3 in 10 children in your childcare centre who could be experiencing some kind of sexual abuse at home.  
According to the National Center For Juvenile Justice:
With

14%

of all sexual assault victims reported to law enforcement agencies concerning children

under the age of 6 years,

it is imperative that abuse prevention education starts for children as early as possible. 
Childcare centres play a critical role in the necessary prevention measures required to bring these horrific statistics down. The best bit is that these services can be provided by specialist abuse prevention educators, such as Safe4Kids.
According to South Australia's Department of Child Protection in 2018:
In 2018,

1 in 4 children under the age of 10

were being reported to child protection authorities.

Of these children,

90 per cent

had multiple reports being made about "incredibly concerning" abuse and neglect.
According to the Australian Institute of Health and Welfare's 2017/2018 Child Protection Report
159,000 (28.7 per 1,000)

Australian children received child protection services (investigation, care and protection order and/or were in out-of-home care). 

Aboriginal and Torres Strait Islander children were

8 times as likely

as non-Indigenous children to have received child protection services. 

Nearly three quarters (72%)

of children receiving child protection services were repeat clients.
But who exactly bears the responsibility for protecting our population's most vulnerable from harm?
As much as it's easier for our hearts and our minds to think that this devastating issue is faced 'elsewhere' and lies in the responsibility of 'others', the truth is that if we do not as communities, parents and childcare centres decide to take action ourselves, today; then it is our own child that could be the next unfortunate statistic. 
So, how are we going to help make our children safer from the predators who surround us?
Education: The key to child abuse prevention
Parents, teachers, childcare centres and entire communities are capable of combating this disturbing outbreak of suffering– and it all starts with prevention education. When it comes to preventing child abuse, knowledge really is power. 
First and foremost, it's crucial for caretakers to know which signs to look for and what they can do to help prevent it from happening. Child protection education and training is the single most effective way to ensure caretakers can take a stand for children ages 3 and up. 
It can be a sensitive topic for those tasked with keeping our children secure, particularly parents who are helping their own children learn what's safe and what's not. A dedicated training program not only addresses these fears but also works with adults and children to deliver a curriculum that's tailored to their individual comfort zones, learning levels and needs. 
Child abuse prevention training: Protect, educate, empower 
A successful child abuse prevention education program gives educators and childcare centres the tools they need to start teaching valuable information that protects, educates and empowers learners of all ages. 
Learning activities and concepts that easily resonate make the training accessible, achievable and fun. Topics like personal space, secrets, what is 'private' and what is not, early warning signs and strangers provide children with specific knowledge and skills in a sequential order, stacking the curriculum and building in space for assessments, review – and ultimately, their long term safety. 
An empowering educational experience should leave the learner with tangible takeaways like life skills, an ability to be persistent and assertive, a newfound resilience and a foundation that helps them build respectful relationships.  
Child abuse prevention education such as that provided by Safe4Kids provides these critical services to communities, parents, schools and childcare centres.  
Leveraging learning experiences and family partnerships 
To ensure children aged 3 and over are getting the most out of any abuse prevention education program, it's important for their families to be partnered with the process. This alignment is the key to achieving successful outcomes that everyone can be fully invested in. 
Families should always be: 
Informed about which learning experiences their child will partake in and how they can help maximise their understanding and retention.

Accepting and supportive of the program, so they can reinforce valuable safety concepts with their children. 

Encouraging their child to master each concept by applying the new knowledge to everyday situations at home and in other environments. 

Participating in a fun and family-oriented way.

Sharing any program information (newsletters, brochures and other communications) with everyone known to the children to help reinforce their protection and arm others with useful information. 
Safe4Kids: A program that's proven to protect 
An easy-to-follow, comprehensive protective education program is one of the best ways to provide safe, successful, empowering training to all the members of your childcare community. The Safe4Kids Protective Education Program was designed for early years educators and primary school teachers in childcare centres, family daycare, playgroups and homeschooling groups. It specialises in delivery to children ages 3 and up, promotes collaborative partnerships with families and partnerships, and is the perfect resource for special needs learners. 
The Safe4Kids Protective Education Program is linked to the:
Early Years Learning Framework for Australia

National Quality Framework: National Quality Standards (NQS)

Western Australian Kindergarten Curriculum Guidelines

Western Australian Curriculum

Victorian Curriculum

Australian Curriculum
It's up to our entire community to put a stop to the child abuse epidemic. It's time to become a source of power and protection for all the little ones in your care. 
Visit https://safe4kids.com.au/product/safe4kids-protective-education-program/ to start today. 
Author: Holly-ann Martin, Director, Safe4Kids
Contact Safe4Kids today: https://safe4kids.com.au/contact-us/